Alliance Machine and Engraving, a member of The Bradbury Group, is a privately held company owned and operated by recognized experts in the field of embossing, engraving, and machinery manufacturing. Our state-of-the-art, world-class manufacturing facility serves both domestic and overseas customers. Our team features highly talented engineers, technicians and customer service managers, trained and equipped to deliver the highest quality engraved rollers, embossing machines, and calenders. Metal embossing is done with a set of hardened matched steel rolls, geared together for top to bottom pattern registration and closed under high pressures.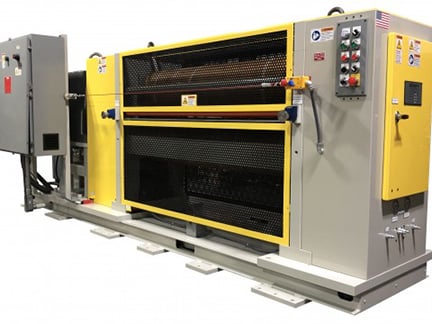 COMPOSITE DECKING & SIDING EMBOSSERS
Composite siding and decking embossers feature robust steel heated/chilled roll design and can include features such as hydraulically assisted nip pressure, A-C variable speed motors, and precision gap controls. PLASTIC AND FILM EMBOSSERS
Plastic and film embossers are ideal for producing patterns that focus on both the aesthetics and the functionality of the design. PACKAGING & FOIL EMBOSSERS
The Bradbury Group is the premier producer of machinery for the packaging and foil industry. CALENDERS
A calendering machine employs two or more steel rolls that close under pressure to smooth, compress and in some cases partially bond a substrate. The Bradbury Group offers top-of-the-line nonwoven, plastic, paper, and film calenders.