We provide a single source, complete turn key, integrated roll forming solution to grain bin production.
Bradbury Sidewall Lines are recognized for their robust design, 20-gauge to 5-gauge capability, a variety of pre- or post-punch / cut options, mechanical or hydraulic press system designs. They are reliable and accurate. Available destacking, stacking, and curving also make them extremely flexible.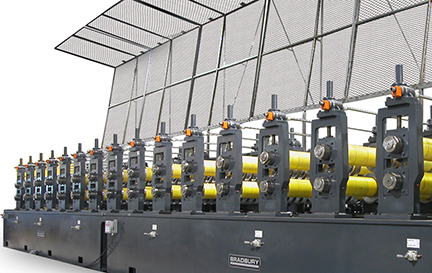 Bradbury grain bin roof lines offer hands free systems capable of producing finished bin sections, including flange bending and vent / access punching, from coil to finished product. Small diameter bins to large, multi-tier bins are well within our system capabilities. Partial systems are available as well, designed modularly to be added onto as capacity demands require.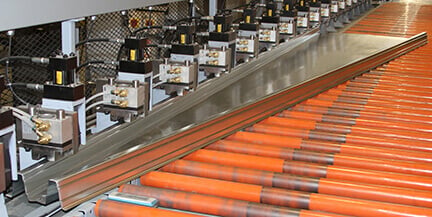 Bradbury grain bin floor manufacturing systems are the industry standard. Compact and flexible, they allow inline lancing and corrugating, or corrugating only of pre-perforated steel. Expert tool and fixture design offers maximum control of profile, crowning and twist. The flying, hydraulic, post-cut shear design increases throughput while minimizing scrap. Versatile and reliable Beck Automation controls enable operators to schedule floors in virtually any configuration.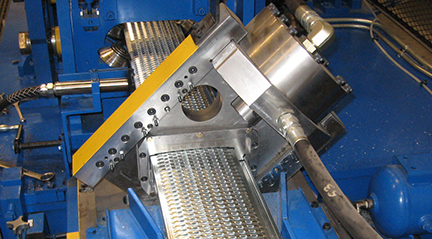 Bradbury designs a full range of grain bin related manufacturing systems, including rafted ladder rung and rail lines for grain bins. These rafted systems allow for production of both ladder rails and rungs in one compact machine footprint.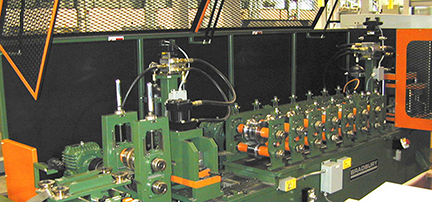 Grain bin manufacturers know that punch accuracy and minimal flare are critical in stiffeners, and so do we. That's why Bradbury offers a variety of robust, accurate stiffener line solutions to handle product ranging from 16-gauge to 0-gauge.