STRATEGIC AGREEMENT
Athader, a Bradbury Group company located in Spain, has a strategic agreement with Leveltek International, a company in the USA, for the worldwide supply of stretch leveling cut-to-length lines.
Athader - Leveltek stretch leveler lines incorporate the latest technology.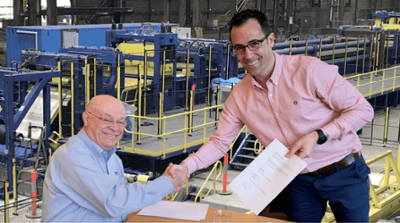 Improve efficiency in your processes and production
Automatic coil loading and threading
Pre-leveler for crossbow and coil set correction
Brushing system for scale and dust removal
Leveltek proprietary non-marking grips
Flying Shear
Robotic and highly automated sheet bundle storage system
System for monitoring production and incidents on the line using Athader's Matrix software which integrates with your management system
With these features, production can increase 50% when compared to stretch cut-to-length lines with a start/stop shear. Since no special pit or foundation is required the flying shear and the stretch leveler, installation costs are also less. Call us to discuss a rebuild of your cut-to-length line, replacing your roller leveler with a stretch leveler.
Headquartered in Benwood, WV, Leveltek International designs, manufactures, and installs stretch leveling systems for light to heavy gauge cut to length and coil to coil lines. Since 1993 they have supplied stretch flattending equipment in coil processing facilities for ferrous and non-ferrous materials around the world.