Process absolute flat material.
Thrive e-drive 3 Leveling system
After many years of success with our e-Drive® leveler, our innovation continues with the development of Thrive, our 3-drive precision leveling platform. The Thrive system features increased material stress reduction and makes corrections automatically using laser artificial intelligence technology.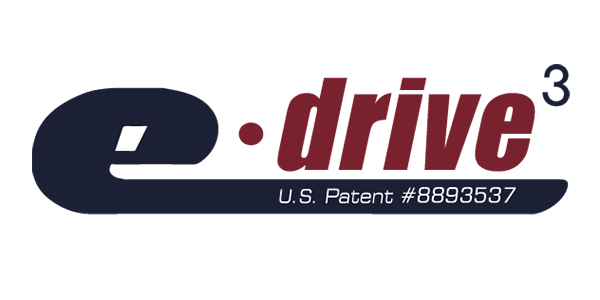 Bradbury e-Drive® levelers are in service around the world.
Our customers come back again and again for the ease of operation, the repeatability, and the quality of the final product.
Let us show you this outstanding technology!
The patented Bradbury e-Drive® system was developed after discovering the mismatch of roll speeds as material makes its way through a leveler. This phenomenon was noticed when torque limiters on the drive shafts of the exit rolls showed excessive wear as compared to the entry shafts. Further testing revealed that material was being forced through levelers from the front. With all leveler rolls of equal diameter and geared the same, material was "bunching up" internally, greatly reducing the stretching process required to equalize material shape. The plunge of the entry rolls has everything to do with yielding the material to a plastic state. Yet when the plunge was increased, the bunching would worsen, and horsepower consumption would increase with little material improvement being gained.
Efficient Consistent Quality
Our patented e-Drive® technology employs tension leveling techniques for gauges .010" to 1".
With today's laser cutting machines in widespread use, erasing the footprint of internal stresses in flattened metals has become more important than ever. The e-Drive® was developed to equalize these internal stresses while delivering superior flatness.
Greater yielding of the material allows for more stretch while gaining deeper penetration – eliminating additional internal stresses. This is very important with today's demand for "Stay Flat™" – or what Bradbury has trademarked "Process Flat™" – materials. Better management of horsepower reduces wasted energy and makes the e-Drive® eco-friendly and one of the lowest cost systems to operate in the world. We use the same amount of horsepower; however, the computer control constantly monitors what is required while preventing the leveler from overloading. Testing has revealed significant energy savings during the normal run cycle. This creates financial savings for you and provides superior control over the flatness of the strip.
Laser-cut parts made from material processed with the e-Drive® system.
Rebuilds/Retrofits
We have adapted the e-Drive® to work with all 12 sizes of levelers we now produce. We can also retrofit existing Bradbury roller levelers with this new drive technology. Owners of this rebuild claim that the leveler is easier to operate and produces flatter material. If you currently own a Bradbury leveler, ask us about the e-Drive® retrofit package. We can refresh the entire leveler and add the new drive/gearbox system at the same time.
Retrofitting Bradbury Roller Leveler with e-Drive®