Designing & manufacturing
precision equipment for the tool & die industry since 1977.
Marion Die & Fixture started with 6 employees in February of 1977 in an old blacksmith shop in downtown Marion, KS.
MDF currently employs 32 full-time employees in its 27,000 square foot facilities.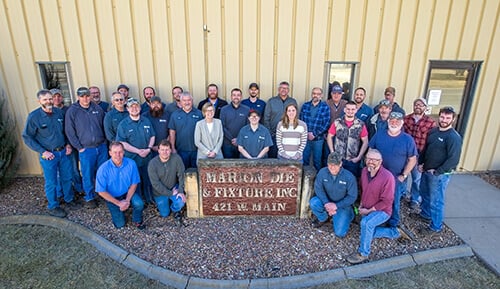 Originally, products were manufactured for industries such as industrial lawn care, agriculture, and heating/air. Outdoor products included insulated pans. In January 1987, MDF moved to their current facility located at 421 W. Main, and acquired a second facility located at 827 N. Roosevelt in May 1991.
After working together for over 10 years, Marion Die & Fixture became a part of the Bradbury Group of companies in January 1999.
Today, MDF manufactures Cutoff Dies, Emboss Dies, Pierce & Lance Dies, Progressive Dies, and Hydraulic Presses. Industries served include Appliance, Automotive, Garage Door, Lighting, HVAC, Furniture, Metal Building, and more. MDF has produced dies to manufacture numerous pizza pans for a well know pizza restaurant chain.