Bradbury Trim Shop equipment is manufactured in a 40,500 square foot plant adjacent to our main facility. This plant is dedicated to producing a full line of trim shop machines and cutting manufacturing lead time on all orders. We offer trim roll formers, folders, gutter roll forming lines, slit/CTL recoil lines, Slit/CTL lines, portable hemmers, coil tippers, coil cars, and stand-alone sheet slitters. Call us today!
Bradbury has supplied Multi-Profile Trim Rollformers to the metal building industry for more than 60 years. Whether you require residential or commercial ridge caps, low or high rib corners, sculptured rakes, or J or jamb trim, Bradbury multi-profile trim roll formers give you profile flexibility while they save floorspace.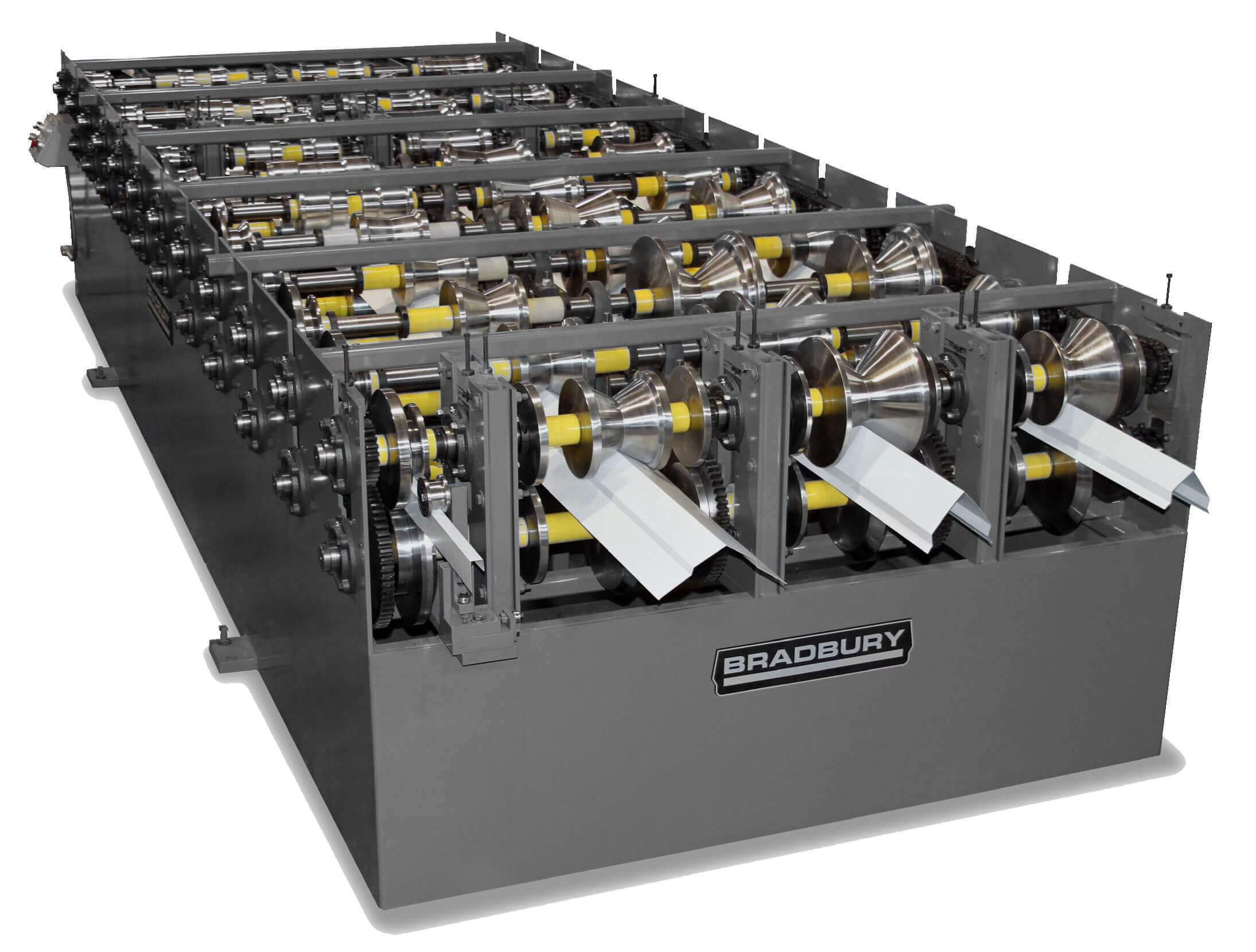 The Bradbury Panther Cub III™ light gauge slit, cut to length unit is ideal for trim shop work and lighter rollforming applications. It allows you to slit and shear or slit and recoil. Features include a moving front end allowing operators easy access to slitter knives, a handwheel adjust lead-in, precision depth control, the ability to stop and move slitter knives to reduce scrap, an upcut shear for sheet-on-sheet stacking, and the Beck Automation Cobalt control.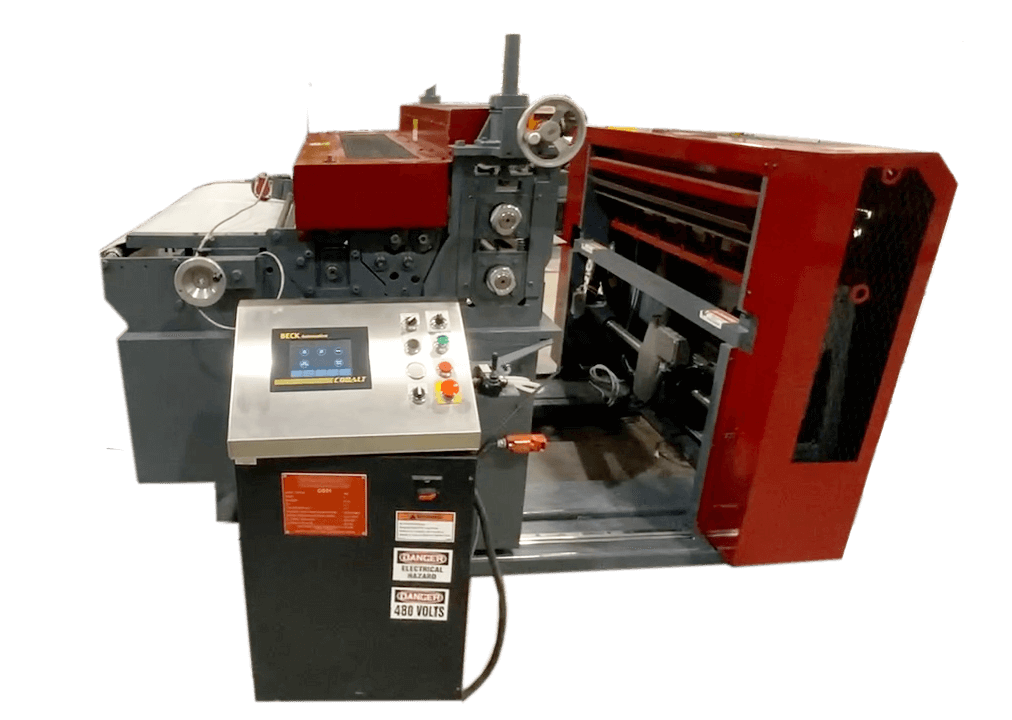 Bradbury Folders give you the metal forming capabilities of a roll former or large press brake at a fraction of the cost. You also benefit from extraordinary versatility in creating high-margin trim shop building components.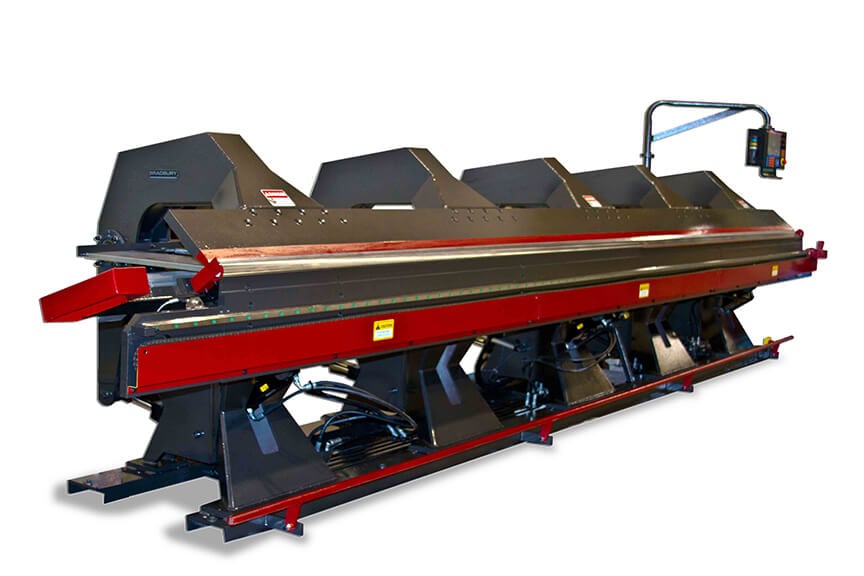 Bradbury has a partnership with Biegemaster to distribute the Xbend Double Folder and offer support in the USA.
Working Length of 21 ft. / 6400mm.
Back Guage Depth 0.787-49.2".
Bending Beam Speed 4 seconds.
Rotation Range of 150 degrees.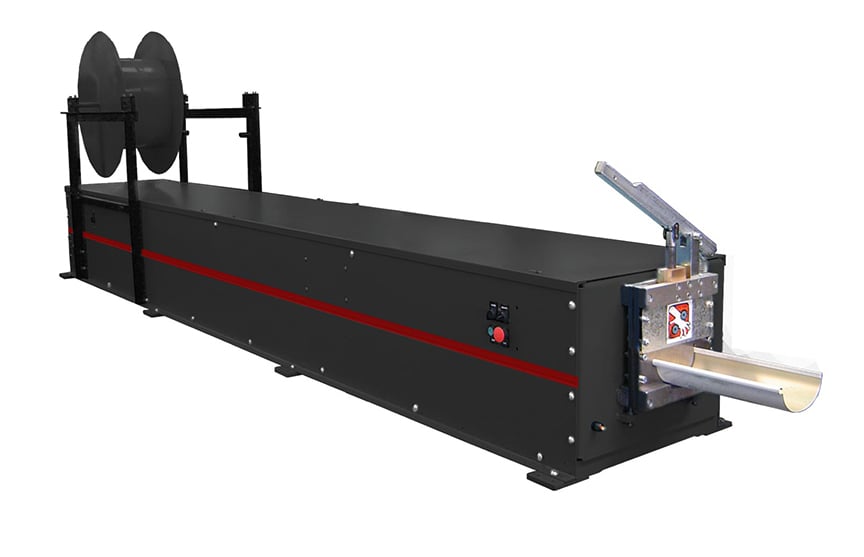 Pneumatic air bladder type tension pad
Manual cross cut shear mounted to exit end of tension stand that eliminates the need to "rethread" when producing pup coils.
Hydraulic pusher arm assembly to assist in removal of slitted coils
Loop arm for speed control - Frequency inverter drive
Jog pendant controller with forward and reverse control
Cantilevered mandrel with powered expansion
Recoiler expansion range - 19" (484mm) - 20" (508mm)
Designed to use 1/2" cardboard cores with 20" (508mm) ID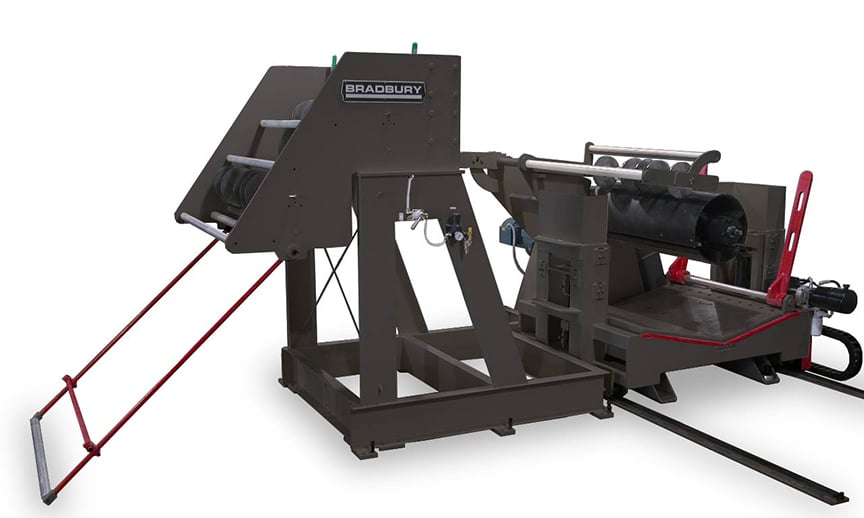 Hydraulic powered press
Produced high quality formed ridge caps
Pitches up to 4 on 12
Multiple profile dies
Formed dies utilize D2 tool steel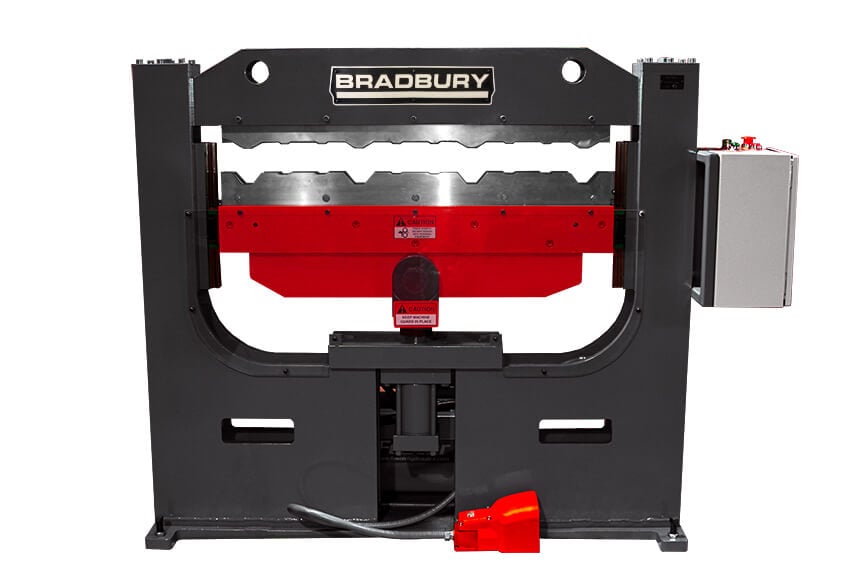 Transition Notch Press
Stand alone notch and cutoff press to produce gambrel and transition trim blanks by taking a profile slug cut. Blank is formed offline on a hydraulic trim folder or press brake to produce custom trim.
Pre-Painted, Galvalume, Galvanized Steel
.020" Maximum, .015" Minimum, 26 to 29 Gauge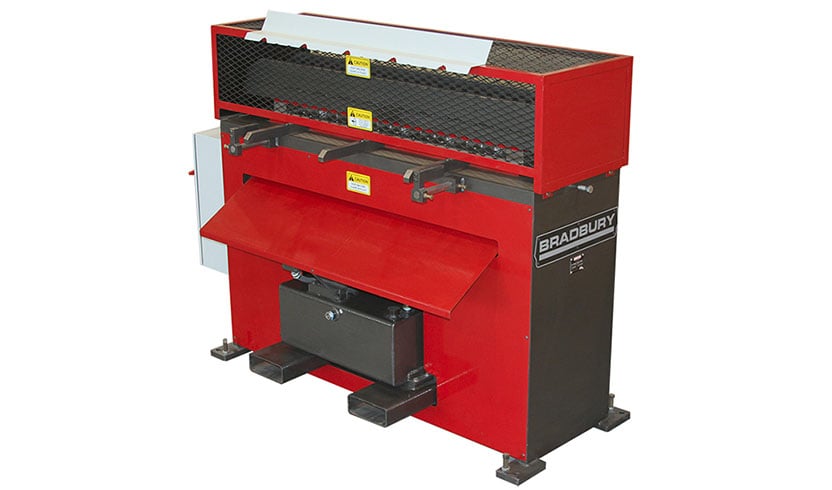 Single mandrel, 12,000 lb. (5.4 Metric ton) capacity
48 1/2" (1230mm) Maximum material width
Hydraulic drive payoff with loop control up to 200 FPM
Hydraulic mandrel expansion
Self-contained hydraulic power unit
Expansion range 18" (457mm) - 21" (533mm)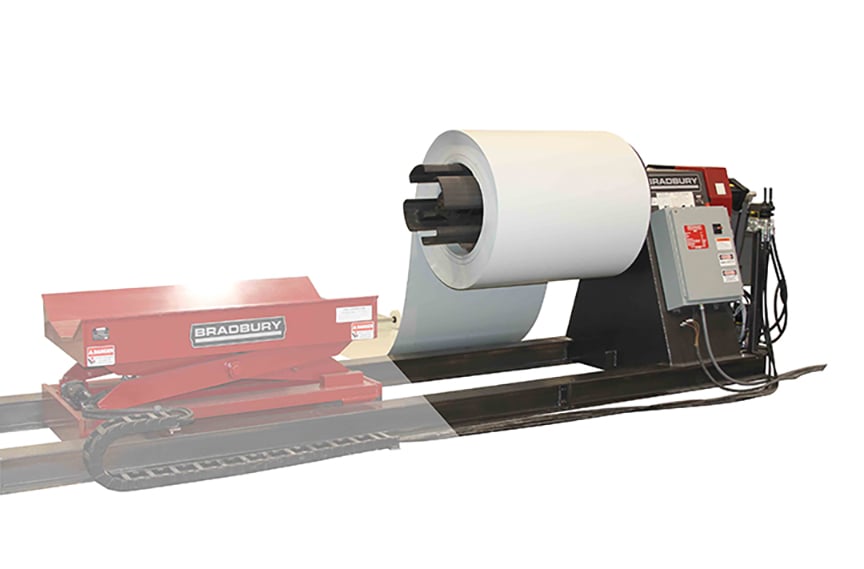 TS12 Coil Car
Cradle type
12,000 lbs. (5.4 Metric Ton) capacity
Maximum coil dimensions: 48" (1220mm) X 45" (1143mm) OD
Hydraulic power from recoiler unit
Complete with track and hydraulic drive
Coil Keepers are available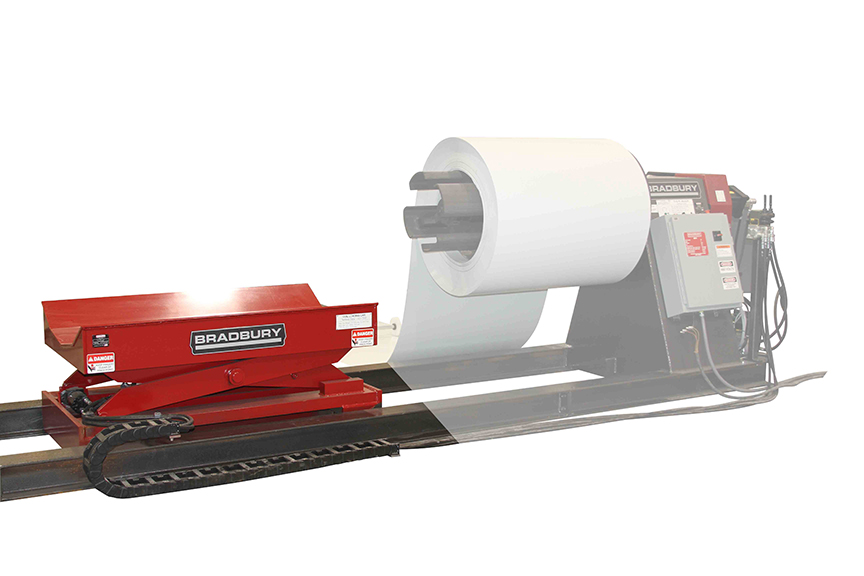 Coil Tipper
12,000 lb. Capacity
Maximum Coil Dimensions 48" wide X 48" OD
Self Contained Hydraulic Power Supply
Approximate Cycle Time is 1 Minute
230 Volt, 60 HZ, 1 PH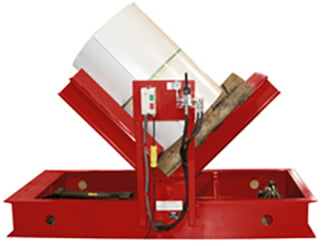 Stand Alone Slitter
4.0" diameter hardened & precision ground arbors
42" Passline
Maximum Sheet Width 48.50" / Minimum 4.0"
Maximum material thickness .048" (18 gauge)
60 fpm operating speed (approx.)
Five sets of 1.25" arbor mounted D-2 slitter knives