Stackers safely guide cut parts from roll formers and other machines.
The Bradbury Group has solutions for various profiles and production requirements. We provide stacking, auto nesting, strapping, master bundling, packaging and bundle removal for most production lines.
From simple drop tables to stackers with programmable end stops that can end justify or pyramid stack, the Bradbury Group can offer a solution that fits your roll forming line production rates. An effective stacker can increase line production by freeing the operator to band and package orders, allowing panel production to continue simultaneously.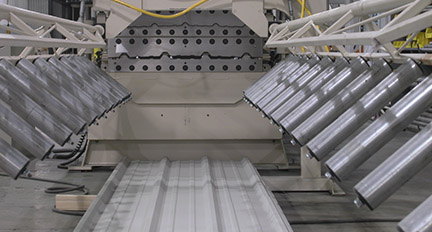 Purlin Line Stackers
Supporting part lengths from 6 to 60 feet, and web widths between 4 and 16 inches, the stacker can be operated manually or in full auto mode. With a bundle stack envelope of 30"wide x 31.5" high, the stacker has a maximum bundle weight capacity of 4,400 pounds. As demonstrated in the video below, the stacker removes parts off of the exit table and stacks them in the required configuration on the bundle table ready for strapping and removal.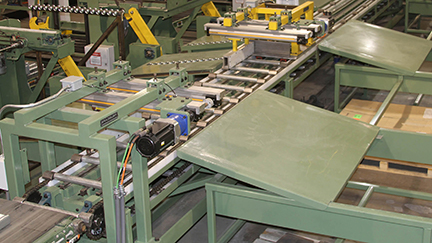 The Bradbury Group offers various solutions for stacking products from cut-to-length lines. This includes automatic drop stackers with end stops, air stackers for delicate materials, and double stackers to allow continuous stacking. We also offer banding and packaging lines for slit coils.