taking your projects from design to fabrication.
Comprehensive custom roll forming services for light and heavy gauge applications.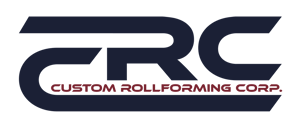 The 51,000 square-foot manufacturing space in our main plant houses ten

rollforming

lines with ample room for specialty equipment.
All of our machinery is unrivaled for reliability and the rugged construction that sustains consistent quality and dimensional integrity.
Custom Rollforming Capabilities
Material Thickness from 30 ga to 1/2" thick

Steel: CRS, HRS, HSLA, Aluminum, Copper

Stainless Steel: 200, 300, 400, Series SS, Polished, Hardened

Pre-Coated Steel: Pre-Painted, Galvanized, Galvanneal, Galvalume

Strip Widths up to 24" wide

Inline Punching & Notching

Inline Welding

Inline Curving and Bending

Rollformed Rings and Ring Segments

Ten Rollforming Lines

Maintenance Free Tooling

Standard Shapes from Existing Tooling

Simple to Complex Shapes

Engineering and Design Assistance

Secondary Processes Available



Secondary Process Capabilities
Power Coat and Paint

Assembly

Welding

Offline Punching & Notching

Robotic Welding

Hot Dip Galvanizing

Inventory Parts for J.I.T. Shipping or Release

Laser & Plasma Cut



Need us to roll form your profiles?
Custom Rollforming Corp.'s facility is equipped to handle a wide variety of roll forming operations efficiently and economically. We can produce simple or complex roll form shapes. Let us manage the product flow to your facility and save the space and expense of warehousing a large inventory of parts. We review your production requirements and usage cycles to target the output, stocking, and delivery timing to accommodate your production schedule. We track parts and send your purchasing department detailed reports.
Transportation
Material Handling
Office Furniture
Electrical
Construction
Off-Road Equipment
Recreational Vehicles
Consumer Products
Solar Energy
Point of Purchase
Agriculture
Filtration
Lighting


Agriculture
CRC has supplied various components for grain storage and drying, harvesters, and swathing equipment. CRC's ability to roll form heavy gauge steel with yield strengths reaching 100,000 PSI gives our customers high wear components with the tolerances they need.
We currently form:
Heavy Gauge Punched Angles

J Channel Profiles

Cutter Bar Supports

Feeder House Slats

Grain Dryer Ring Components

Grain Bin Wall Supports
construction
Rollforming is the fastest, most cost-effective manufacturing method to produce your structural components for the Construction Industry.
We currently form:
Material Handling Components

Overhead Crane Track

Commercial Green House Components

Steel Framing Components

Sub Assembly Services Available

Stocking Programs Available


solar
The Bradbury Group has been serving North America's solar energy market since 2011. We have over 50 years of experience roll forming structural steel components for a variety of different markets.
We currently form:
Ground Mount Structures

Roof Mount Structures
transportation
CRC has many years of experience roll forming components for the transportation industry.
We currently form:
Dump Bed Stiffeners

Seat Tracks

Trailer Corner Transition profiles

Conductor Rail for Commuter Trains

Welded Tube Profile for Buses

Bus Rub Rails