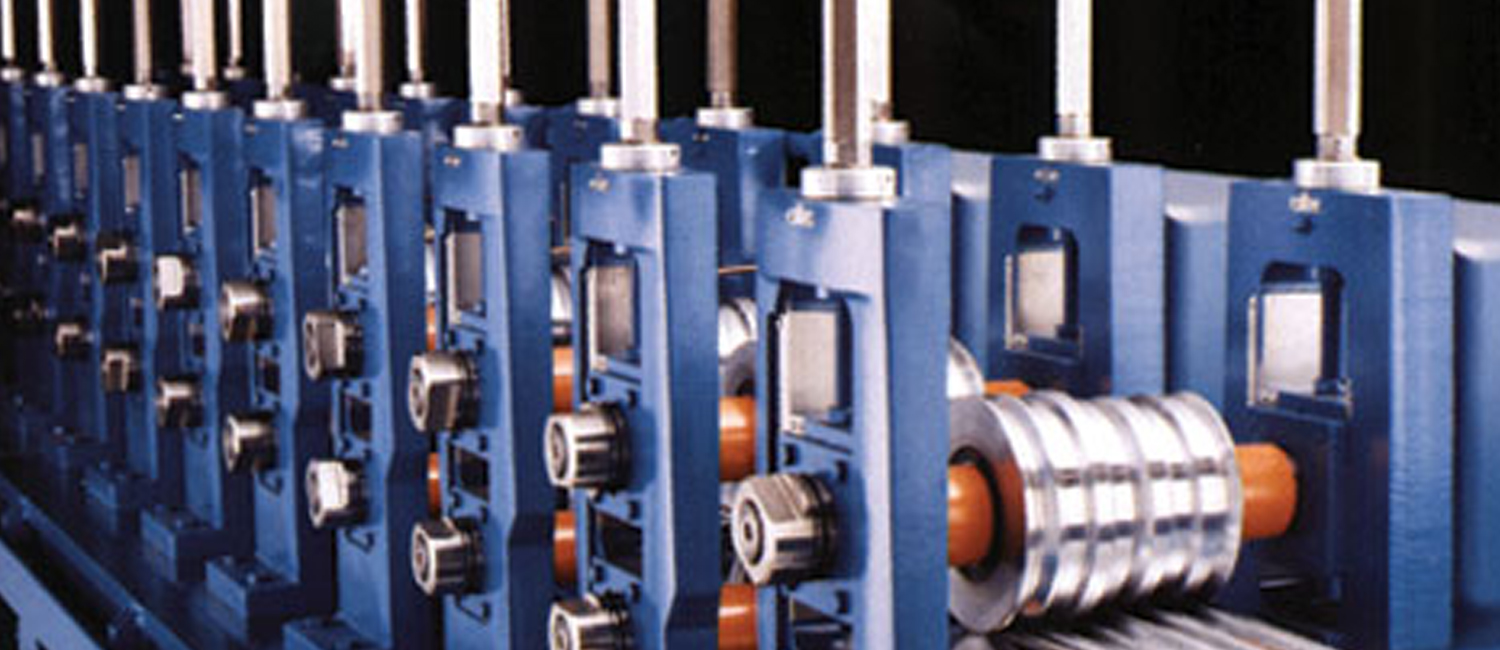 Leadership in Coil Processing & Roll Forming Systems through Innovation and Service
The Bradbury Co., Inc. is a Kansas corporation which started in 1959. Our company began by operating a rollformed products division and by manufacturing roll tooling for customers involved in metal forming. Today, our product lines include roll forming equipment, coil processing equipment, levelers, insulated metal panel lines and automated production systems. You can be confident that Bradbury equipment incorporates the latest technology and is unsurpassed in quality and durability. On-time delivery and a comprehensive approach to maintaining top machine performance are hallmarks of our global company and our customer service.
In 1986, The Bradbury Co., Inc. purchased the coil processing rights from Paxson. Within this purchase was the initial design of the corrective roller leveler. Through continuous customer feedback and advanced engineering technology, leveler advancements over the past 25 years include the invention of the Auto-Corrective® leveler, the Auto-Selective™ leveler, as well as cartridge removal, lift-top™, roll stack™ removal, Flat Trak™, and now the patent pending e-drive® and bow scout.
In 1996 The Bradbury Group acquired American Machine & Rollform Tech. American has been manufacturing state-of-the-art hydraulic punch and cutoff machines paired with Bradbury rollforming since 1989. The company's product line is manufactured and headquartered in Moundridge, KS. Businesses served by American include steel framing manufacturers, shelving and racking, and companies requiring small rollformed sections. Since its founding, American Machine has been dedicated to increasing customer profitability with efficient, reliable machines that offer high-quality output and a rapid return on investment. The advanced hydraulic punch, cutoff, and rollforming systems deliver performance you can count on.
Bradbury's roll formed products division was given its own identity and incorporated in 1991 as Custom Rollforming Corporation. CRC now operates 10 production lines that turn out a wide range of roll formed metal products made to customer specifications from its own, separate facility in Moundridge, KS. CRC production ranges from simple to complex parts in many shapes and gauges. CRC is John Deere's preferred supplier of rollformed shapes. CRC supplies rollformed shapes to various industries, including agriculture, construction trailers, buses and solar to name a few.
Marion Die & Fixture was acquired in January 1999. MDF designs and manufactures equipment for the tool and die industry. Progressive dies, punch and notch dies, door emboss dies, and cutoff dies are supplied to a wide range of industries. These include the appliance, automotive, garage door, HVAC, lighting, and metal building industries.
In July 1999 Bradbury executives ventured into the Southern Hemisphere to acquire Hayes International, headquartered in Rotorua, New Zealand. This world-renowned company does business in over 75 countries and makes top-quality metal building products and metal framing components. For more than 35 years, Hayes has supplied rollforming, slitting, folding, and related equipment for manufacturing roofing, wall profiles, structural sections, and other metal building products. Hayes builds a competitive edge into every machine.
Beck Automation LLC., located in St. Louis, MO, was started in 2001 with Joe Beck, a 15-year veteran of the rollforming and controls industry. Beck Automation's focus is designing system controls for the rollforming industry, cut-to-length lines, tube mills, portable rollformers, and folding machines for both new and retrofit equipment. The 32-bit SII Controllers provide precise open loop, closed loop, multiple press, and multiple axis control. Beck's Connex™ business software integrates administrative and production activities giving state of the art production control and reporting.
Metform International Limited in Mississauga, Ontario, and The Bradbury Group formed a strategic partnership in 2005, giving both organizations the ability to share technology, cooperate in various markets in North, Central, and South America, and increase the reach of both organizations in these geographic regions. Metform supplies rollforming equipment for a variety of industries including automotive and heavy gauge rollforming.
In 2010 Bradbury Group Australia, Pty Ltd, a subsidiary of the Bradbury Group, brought together the expertise and innovation of three established leaders in rollforming with global capabilities: Hilleng International, Die-Craft Engineering, and Hayes Australia. Bradbury Group Australia is a leading manufacturer of sandwich panel laminating machinery and systems. Our equipment incorporates the latest servo drives and PLC logic controllers for increased automation and productivity. BGA also designs and manufactures custom roll forming equipment and is the leading roll former manufacturer for rainwater products. Bradbury Group Australia is committed to providing clients with superior products and service. The quality and innovation of its machinery and its extensive network of service support are aspects of that commitment.
In 2011 the Bradbury Group announced its strategic partnership with Alliance Machine and Engraving, LLC, located in Ashland, VA. Alliance's manufacturing capabilities span a broad range of products and industries including: Embossing Machines & Rolls, Calendering Equipment and Composite Lumber Machines for metals, non-wovens, geotextile, paper and composites. An overview of the services offered by Alliance include: new equipment, on-site engraving technicians, machinery installations, product development, machinery evaluations, used equipment refurbishing, new roll sets and technical support. From the sale of new machines to providing replacement rolls, parts or field service and support on your existing equipment, regardless of manufacturer, we are committed to being an expert resource for you.
In 2012 the Bradbury Group and Athader S.L, San Sebastian, Spain, announced their definitive joint venture. For over 20 years, Athader has delivered quality coil processing equipment to the European and Latin American markets. Their expertise in rotary and flying shears, multi-blanking and stacking, slitting, packaging and strapping, surface critical lines for stainless steel and aluminum as well as carbon steel, combined with the advanced leveling and coil processing technologies of The Bradbury Group, has allowed us to grow together as world leaders in the manufacture and supply of high quality, technologically advanced equipment for the industry.
In January 2014, The Bradbury Group purchased substantially all of the assets of Industrie Pu.Ma. in Tribano, Italy. Founded in 1992 and once the worldwide leader in the manufacture of PU/PIR insulated panel lines, the company had become financially distressed in recent years. Bradbury's financial strength allowed us to purchase the assets and revitalize the business. Today, Bradbury Group Pu.Ma. is leading a resurgence to be the leader in insulated panel technology worldwide and is winning customers over with superior technology and service, a hallmark of The Bradbury Group.
Today, The Bradbury Group offers highly engineered custom product lines including complete rollforming production lines, precision levelers, coil processing production lines, equipment control solutions and customized automated production systems. Industries served include metal buildings, insulated metal panels, garage doors, grain storage, steel framing, railcar production, HVAC, appliance, transportation, aircraft and automotive to name a few. Through acquisition and partnerships, The Bradbury Group has brought together manufacturers of related products employing over 600 people and includes 750,000 square feet in 11 manufacturing and engineering facilities located in the United States, England, Australia, New Zealand, China, Canada, Spain and Italy. Multiple sales, engineering and service offices around the world give Bradbury a presence in 17 different countries and on 5 continents.
We Build Machines…We Sell Solutions