Bradbury Hydraulic Folders
Better by Design
Bradbury Long Folders™ were developed by listening to our customers, consulting leading experts in the field, and adapting the top features of the best folders to our design. Bradbury Folders are highly refined machines backed by years of metal-processing experience and supported by Bradbury Customer Service whenever and wherever you might need it.
BRADBURY HYDRAULIC FOLDER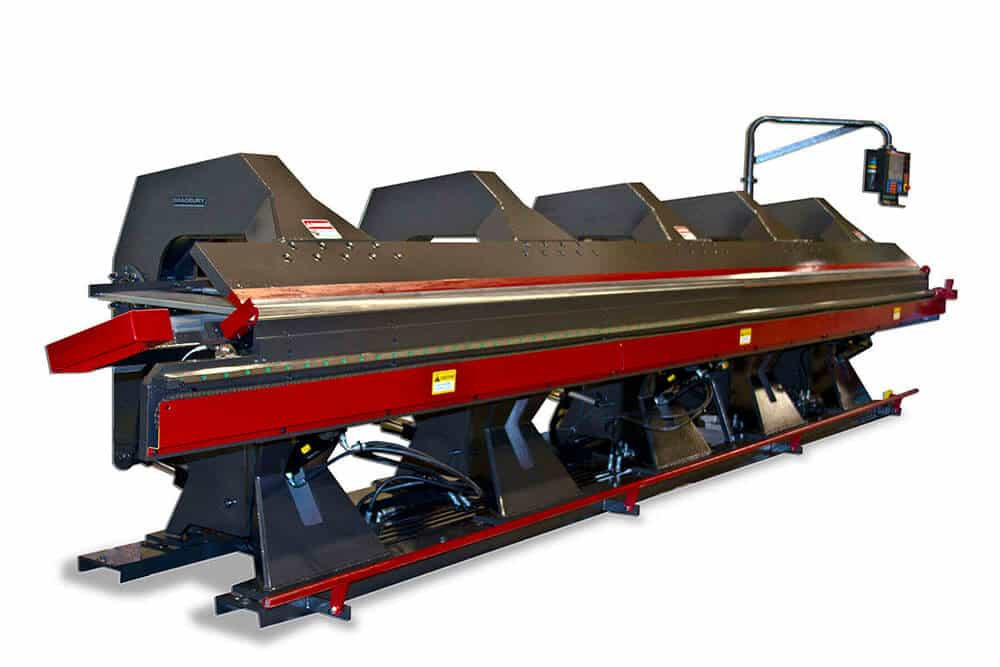 Bradbury Folders give you the metal forming capabilities of a roll former or large press brake at a fraction of the cost. You also benefit from extraordinary versatility in creating high-margin trim shop building components. Bradbury Folders come with free firmware downloads from Beck Automation and controllers with optional office-to-folder download capability. All components on Bradbury Folders were designed with our customers in mind and, in many cases, are easily sourced locally. Standard models are designed to handle 30-gauge to 11-gauge metal and are available in five lengths – 13', 21', 26', 33', and 40'.
Programming and machine operation are easily learned. Repeat accuracy is +/- 1/2 degree. Machine design allows open hem, closed hem, and teardrop hems. Two-stage hydraulics combine fast cycling with soft starts and stops for reduced wear and tear on folder and operator. Two-position back gauges minimize travel time. An optional stop can be used to create tapered sections. Beam-mounted slitter and form tooling options further enhance productivity. Wherever possible, we have incorporated readily available standard components to simplify service and reduce downtime.
Intelli-Fold™ Controller
The heart of the Bradbury folder is made by our partners at

Beck Automation.
The Intelli-Fold™ Controller features resident programs and a graphic display that allow your operator to save time by sketching a part profile and then entering its dimensions and angles. Screen prompts guide the process. We've combined the best features of popular CAD programs and eliminated the irritants. For example, you can easily modify your part program, enter or delete steps, and use the bend allowance.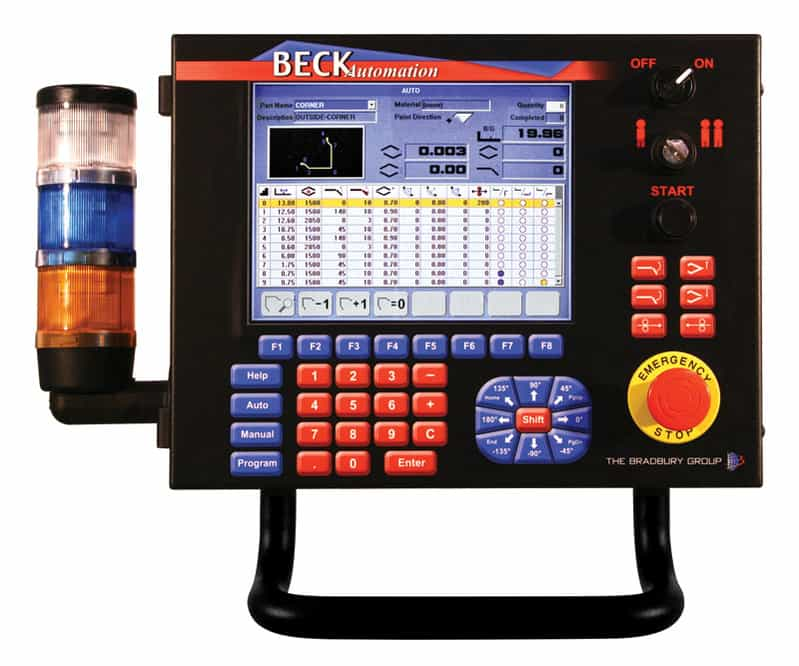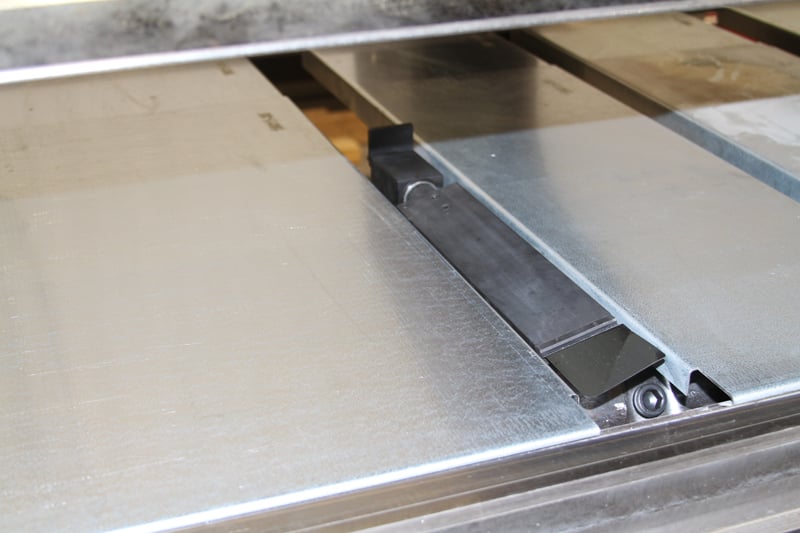 Two-position backgauge increases machine flexibility and cuts travel time. It can be moved to any location along the length of the folder.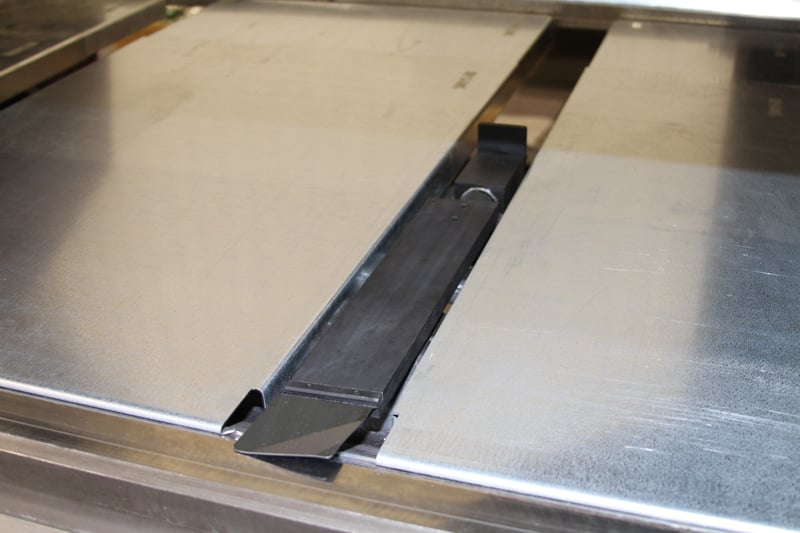 The Hybrid Finger™ assembly is designed to be positioned within 1/2 inch of folds as well as provide positive edge contact and consistent part alignment.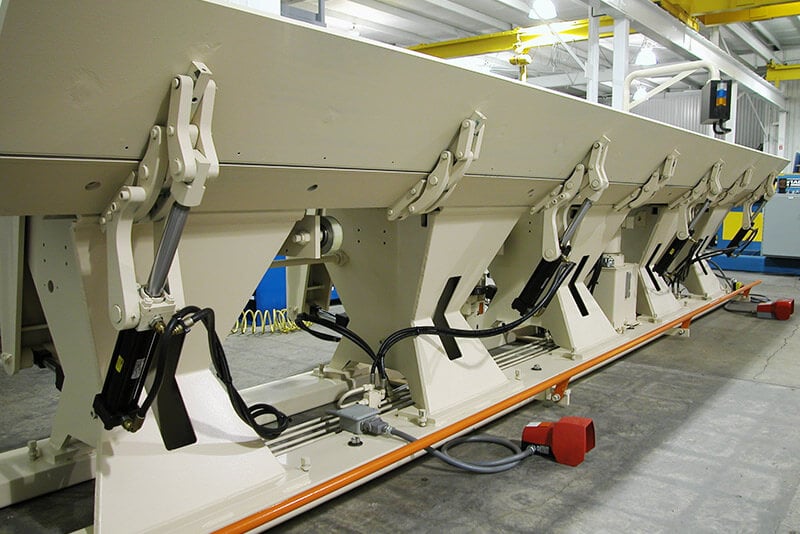 Powerful hydraulic links are spaced along the folding bed to create uniform force and provide smooth action and repeatability.
Safety First
Bradbury's Hydraulic Folder is your premier choice for folder safety.
Safety stop for upper jaw can be programmed for local regulations.

Full-length emergency kick rail provides e-stop and lock shutdown.

Emergency stop foot pedals are supplied for each of two operators.

Upper jaw opens if safety stop is activated during clamping cycle.

Upper jaw cannot be opened if bending beam and slitter are not in home position.

Neither the bending beam nor slitter can operate if the upper jaw is not clamped at a safe level of pressure.

The bending beam cannot start if the slitter is not in its home position.

Slitter cannot start if the bending beam is not in the down position.

Slitter stops and cannot move if the electric eye beam is interrupted.

Low-voltage protection shuts off all systems.

Presence sensing laser device for added safety for the operator during folding.